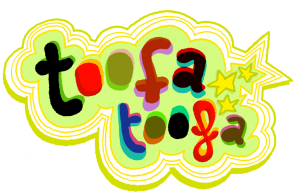 Toofa Toofa
 (52 X 7 min)
Written by Philippe Traversat
Drawn by Alexis Lavillat
Music by Philippe Katerine
Make sure you have fun!!
Approved by the International Observatory of Fun.
Would you like the eternal barbecue party to be a little more lively? You like to be "cool", "fun", but you're dressed like a tramp and can't tell a joke. A loved one has left you and you still have so much to share. You no longer stand your body and it doesn't appreciate it. You are a 15 year old redhead and have just been dumped. Young people annoy you with their young bodies, young skin, and young hair. Do you dream of changing your life? Of enjoying moments of fun? Do you want to live a different life full of fun?
Then call on the professionals!
Guaranteed to be loved by families and to offer an unrivalled evening of entertainment. Toof is the new fun and educational show for the whole family (and with awards to boot).
Dick and Dina will let you dive into the fun and frolics of daily life.
A N O R M AA L    production
Written by PHILIPPE TRAVERSAT
Drawn & directed by ALEXIS LAVILLAT
Amplified by PHILIPPE KATERINE
Graphic style &  direction
ALEXIS LAVILLAT
Litterary style & script
PHILIPPE TRAVERSAT
Music,  voices, video clips choreography
PHILIPPE KATERINE
Philippe Katerine musician
GILLES CORONADO
Backgrounds
ALAIN PRUNIER
Additional graphic style
OLIVIER GROJNOWSKI
Production manager
ANTONIA MARTINEAU
Production & legal coordinators
ANTONIO VELASCO
SYLVIE LEPERRE
AUDREY MONTIS
Storyboard
JUSTINE POULAIN
Color backgrounds
CAMILLE MEUNIER
Lay-out
DAO NGUYEN
SIMON LACALMONTIE
DAMIEN LEVY
MARION PILLYSER
Animation director
DAVID CEZ
Set up & animation
MATHIEU GLATIGNY
Animation
LUDIVINE MARQUES-VERISSIMO
KEVIN AUDI-GRIVETTA
ALEXANDRE RATEAU
MIREILLE TRAM
PIERRE VOLTO
Lipsynch
GUILLAUME ROUCAIROL
FX
FRÉDÉRIC MACÉ
Compositing
CYRILLE LE FOLGOC
SÉBASTIEN REGERT
Voices
MANU GARIJO
PHILIPPE BLANCHARD
MATTHEW GECZY
Post-production
STANDAARD AUDIO STUDIO
Manager
BABETTE VIMENET
Sound ingenior
OLIVIER MÉNARD
Laboratory
RAMSÈS 2