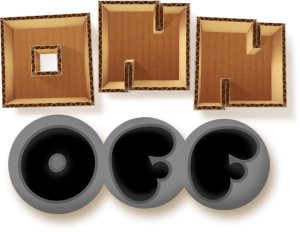 ONN – OFF
(52 X 6 min)
created, drawn and directed by Alexis Lavillat
The cartoon that hits you square in the jaw!
ONN, the square dog, lives in his square house with his square family, while OFF, the round cat, circles his round garden.
Enter ONN the dog's V.I.P. square or join OFF the cat's circle of insiders. But be warned, when two such opposite characters share the same cartoon they are sure to square up and lose their marbles!
CANAL + RÉ-CRÉATION ORIGINALE
A  N O R M AA L     production
With the participation of CANAL + FAMILY & TELETOON +
Created and  written by ALEXIS LAVILLAT
Writing & story-boards director
FABRICE HAGMANN
Scripts director
CHARLOTTE RAZON
Music by OLEG GITARKIN & OLEG KOSTROW
"MESSER FÜR FRAU MÛLLER"
Executive producer
DAMIEN LÉVY
STUDIOS N O R M AA L PARIS & ANGOULÊME
Production & direction
ALEXIS LAVILLAT
Productions & studio managers
ANTONIA MARTINEAU
DOMNIQUE GIACOMONI
Technical director
DAVID SAUVE
Administration & legal
ANTONIO VELASCO
SYLVIE LEPERRE
AUDREY MONTIS
CLAIRE JARRETON
CAROLINE RAINETTE
1st assistant director
CLÉMENT PELLETIER
Background graphic sketchs
RYAN CHANG LAM
Backgrounds models & sculptures
FRED BOQUET
Pixel Art animation Pixel Art
JEAN-PIERRE POIREL
Color backgrounds supervisor
DAO NGUYEN
Animation supervisors
LOUISE MENDOCHE
JONATHAN MESNER
Layout supervisor
BENJAMIN MIALET
Compositing supervisor
HÉLÈNE CANAC
Photography supervisor
FABRICE RICHARD
Color backgrounds
URS HAEBERLI
ALESSIA CORDINI
JULIA KIRCHNER
SÉBASTIEN LE DIVENAH
CAMILLE MEUNIER
VIET-LONG NGO
SIMON LACALMONTIE
Dreams illustrations
LUDIVINE MARQUES VERISSIMO
Dreams animation
ELODIE HIOLLE
Layout team
PATRICK ALFRED
OLIVIER BOILLAT
LOU BONELLI
BRICE BOURRÉE
EMMANUEL FOUR
FRANÇOIS MALLET-PETIOT
JÉRÉMIE PONCET
ELIOTT GAMERDINGER
NOÉMIE LAMBERT
BENJAMIN MOULIN
Set up
QUENTIN FOVET
JEAN-MARIE JOURDANE
Animation assistant director
SYLVAIN BOUSSIRON
Animation team
SAMUEL BONNEMORT
VINCENT CARRETEY
ANNA CHAPELLE
NICOLAS LEROY
ADRIEN FROMENTEIL
BENJAMIN JORET
LUDIVINE KADIKOFF
PIERRE LEDAIN
SANDRA LENQUETTE
PAULINE MENIGAULT
PIERRE PATTE
ALEXIS SAINT-AUGUSTIN
PRUNE STROZZI
XAVIER TRUCHON
SOVAN VAR
FRÉDÉRIC GRÉGOIRE
Special posing
NOÉ GIULIANI
SOIZIC MOUTON
Additionnal backgrounds & props
VINCENT ROUSSEAUX
STÉPHANE EHRHARDT
LISA YOKOBORI-PIAT
JULIETTE ONERNDORFER
Backgrounds shooting
ELLIOT GAMERDINGER
Lay-out assistant
VÉRONIQUE DUBOURG
Clean photos
VINCENT CARRETEY
CIELLE GRAHAN
FX
ALEXIS FENISER
ERWIN RIEFFEL
CHRISTOPHE NARDI
LÉO WEISS
Compositing
CLÉMENT BOURDELEAU
Music editing
GUILLAUME LAFEUILLADE
HUGO BARBIER
Editing
DAVID SAUVE
Sound & laboratory STANDAARD
Manager  BABETTE VIMENET
Mix DENIS CADIOU
GAËL MORICE
Sound design CHLOÉ DOLL
With the participation of  CANAL + FAMILY
LAURENCE BLAEVOET, SOPHIE BOÉ, GÉRALDINE SOTO
TÉLÉTOON +
With PÔLE IMAGE MAGELIS
With the support of DÉPARTEMENT DE LA CHARENTE, DE LA RÉGION POITOU-CHARENTES
With the participation of CENTRE NATIONAL DE LA CINÉMATOGRAPHIE ET DE L'IMAGE ANIMÉE
Ventes internationales  STUDIOCANAL
N O R M AA L © MMXIV
Sample 01
Sample 02
Sample 03
Sample 04
Sample 05