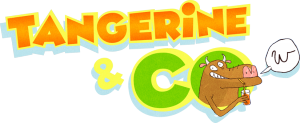 TANGERINE & COw
(78 X 7 min)
by Jacques Azam
directed by Alexis Lavillat
The Bovine COWmedy !
Take a family, any family : a mom, a Dad, two kids, and… a pet.
Play around with the different ingredients: a Stay-at-Home-Mad-Inventor-Mom who dreams of nothing but the Nobel Prize, an absent Dad, who is always willing to lend an ear, since he's… a cell-phone, Chico pre-teen, so chill you need to take his pulse just to make sure he's alive, a tyrannical little Lulu overdosed on vitamins A.D.D. and…. The Cow !
That's right, a cow, full grown and grass-fed, if possible with a tasteful yet juicy vocabulary.
Add a full glass of orange juice, shake, rattle and roll, and you'll get : TANGERINE & COw, a peek into the day to day lives of the most insanely zany family ever invented- as least since families were invented!
… To be consumed immediately, in 156 portions of 7 minutes.
A co-production France 3, N O R M AA L
Based on the comics by Jacques Azam,
In the collection CHICO MANDARINE by MILAN
With support from the Île de France region
Produced by  ALEXIS LAVILLAT
Directed by
ALEXIS LAVILLAT
PIERRE VOLTO
Editorial directors
Alexis LAVILLAT
Marion MONTAIGNE
Written by
Jean-Luc FROMENTAL
Jacques AZAM
Alexis LAVILLAT
Marion MONTAIGNE
Jean-Marc LENGLEN
Marie de BANVILLE
Arnold BOISEAU
Yves COULON
With the voices of
Evelyne GRANDJEAN
Bernard ALANE
Nathalie HOMS
Vincent VIOLETTE
Music by LAURENT BAUER
Studio manager Paris
ANTONIA MARTINEAU
Studio manager Angoulême
HÉLÈNE MÉNANTEAU
Animation supervisor
DAVID CEZ
Storyboards supervisor
ETIENNE PINAULT
Voices casting
BABETTE VIMENET
Lau-out supervisor
DAO NGUYEN
Color backgrounds supervisor
ANNE-CATHERINE OTT
Set-up &  FX
NICOLAS GUILLOTEAU
DAMIEN GAILLARDON
FRÉDÉRIC MACÉ
CHRISTOPHE PACAUD
Storyboard
ETIENNE PINAULT
RAPHAËL CHABASSOL
BERNARD PORTIER
FLORIAN FERRIER
SANDRINE SEKULAK
ALBAN RODRIGUEZ
JEAN-LOUIS CHAMPAULT
SÉVERINE MORIN
FRANCK BONNET
SOLÈNE AZERNOUR
Lipsynch
GUILLAUME ROUCAIROL
Layout team
BENJAMIN L'HOSTE
FRANÇOIS MALLET-PETIOT
LOÏS DE CORNULIER
CHARLÈNE TONG
MARCO MARCHETTI
EMILIE SENGELIN
WILSON
SIMON LACALMONTIE
ROBIN RAFFALLI
BENJAMIN MIALET
FRÉDÉRICK VENET
MARION PILLYSER
BÉNÉDICTE BATTESTI
AURÉLIE FRÉCHINOS
JULIE ROUVIÈRE
MÉLANIE BRICHARD
RÉMY NARDOUX
Animation team
LUDIVINE MARQUÈS-VERISSIMO
MATHIAS MARTIN
TAKLYT
STÉPHANE COCHETEUX
ÉLODIE HIOLLE
MATHIEU GLATIGNY
PIERRE VOLTO
CÉCILE PIRAS
DAMIEN BARRAU
AURORE GRILLOT
FRANCESCO VECCHI
MÉLANIE MANSOURI
CLAIRE COURTOIS
JÉRÔME PÉRILLAT-COLLOMB
CAROLINE MAURÉ
CÉCILE PIRAS
ANDRÉ PÉREIRA
MIREILLE TRAM
SYLVAIN BOUSSIRON
JEAN-MARIE JOURDANE
LOUISE MENDOCHE
AURORE SANGUINETTI
KÉVIN AUDI-GRIVETTA
URS HAEBERLI
ALEXANDRE RATEAU
Compositing team
FABRICE CASALI
VIRGINIE PATERNOSTRE
CHRISTOPHE PACAUD
SÉBASTIEN REGERT
JONATHAN NARDI
FABRICE RUAULT
MIKHAÏL MARGOLIS
ERIC BLANCHET
KARL BOURDIN
CHRISTOPHE PACAUD
FRÉDÉRIK ANZOLIN
ÉRIC BRÉCHAT
MARC CHURIN
VALÉRIE NARDI
SÉBASTIEN REGERT
Laboratory
RAMSÈS 2
Sound
SAYA
STANDAARD
Sound ingeniors STANDAARD
DENIS CADIOU
Assistant
GUILLAUME LAFEUILLADE
Sound fx
FANNY BRICOTEAU
Foley's
GRÉGORY VINCENT
Sound ingeniors RAMSÈS 2
PIERRE DESMONTS
JEAN-MARC BILLARD
GAËL MORICE
Sound effects
CHRISTOPHE BURDET
Sound, FX & mix
MATHIEU CABOOTER
DENIS CADIOU
BRUCE KEEN
Head of youth programs France TÉLÉVISIONS
JULIEN BORDE
Youth programs unity France TÉLÉVISIONS
VOYELLE ACKER
ANNICK MARCHAND
PIERRE SIRACUSA
CÉLINE LIMORATO
With the support of  CENTRE NATIONAL DE LA CINÉMATOGRAPHIE and PROCIREP
With the support of the  RÉGION ÎLE-DE-France,
With the support of France TÉLÉVISIONS
With the support of DÉPARTEMENT DE LA CHARENTE, of RÉGION POITOU-CHARENTES,
Based on the comics that appeared in the  CHICO MANDARINE collection by JACQUES AZAM , and published by MILAN
N O R M AA L © MMVIII
Sample 01
Sample 02
Sample 03