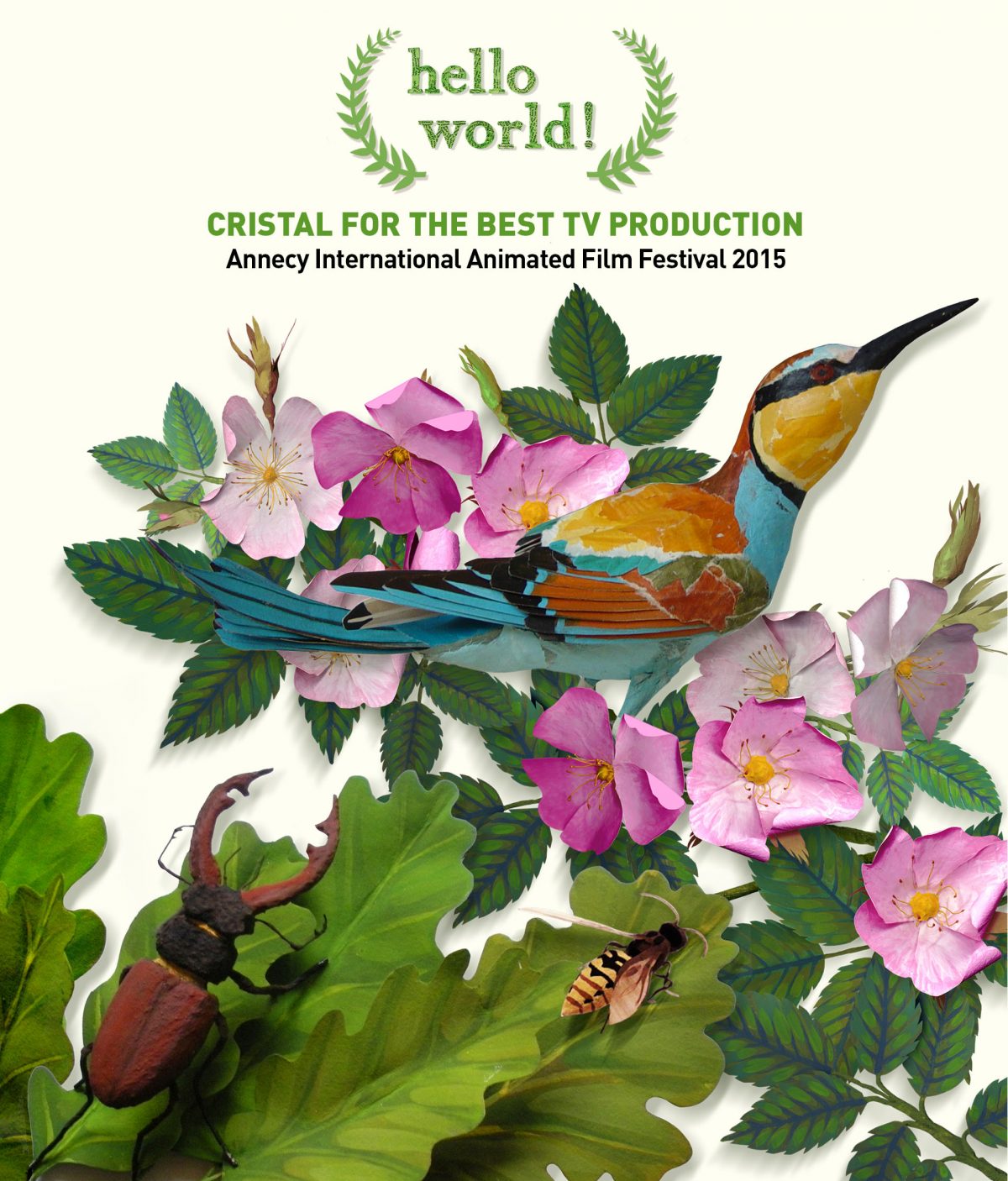 HELLO WORLD!
(10 X 9 min)
created & written by Anne-Lise Koehler
directed by Anne-Lise Koehler & Éric Serre
The series about the Nature of things!
How is a bird born, why does one come into the world as an insect, mammal or fish?
The paper sculptures of Hello World animate the amazing spectacle of life in the wild.
10 episodes, 10 adventures to witness the discovery of the world by 10 different animal species.
Hello World, the first naturalistic animation series, an artist's view of the natural world.
A N O R M AA L     production
Created by ANNE-LISE KOEHLER
Written by  ANNE-LISE KOEHLER et VALÉRIE ALANE
Production an studio manager
ANTONIA MARTINEAU
Administration & legal
ANTONIO VELASCO
SYLVIE LEPERRE
AUDREY MONTIS
CAROLINE RAINETTE
With the voices of
VALÉRIE ALANE
Executive producer
PHILIPPE TRAVERSAT
Produced by
ALEXIS LAVILLAT
Directed by
ERIC SERRE
Director of photography
PHLIPPE ROUSSILHE
Props and paper-backgrounds:
SOPHIE TRAN MINH
MARION POTRON
CÉLINE RANO
QUENTIN GUICHOUX
LILIAN VASQUEZ
MAGALI MALO
QUINGYUAN JIA
EVA JOLIVET
EMILIE LEROUX
SÉBASTIEN LAVELAIR
Paper Set-uo
SAMUEL DHAUSSY
ANNE-LISE KOEHLER
MATHIEU GLATIGNY
CÉDRIC MERCIER
Layout et backgrounds
DAO NGUYEN
DAMIEN LÉVY
ERIC SERRE
LAETITIA OSSEY
Animation
CAROLINE MAURÉ
SOPHIE ROZE
NICOLAS GUILLOTEAU
DAVID CEZ
Compositing
JONATHAN NARDI
KARL BOURDIN
Thanks
MARIANNE LEBEL
CHRISTOPHE LOURDELET
DENIS WALGENWITZ
LIONEL ASSELINEAU
Sound
STANDAARD
Sound manager
BABETTE VIMENET
Sound men :
GUILLAUME LAFEUILLADE
DENIS CADIOU
DAMIEN PROST
PAULINE BROQUET
Sound effects
JEAN CHEVALLIER
CHRISTOPHE BURDET
Mix
BRUCE KEEN
With the support of
CENTRE NATIONAL DE LA CINÉMATOGRAPHIE ET DE L'IMAGE ANIMÉE
CNC FONDS D'AIDE À L'INNOVATION AUDIOVISUELLE
PROCIREP SOCIÉTÉ DES PRODUCTEURS DE CINÉMA ET DE TÉLÉVISION
ANGOA
N O R M AA L © MMXII