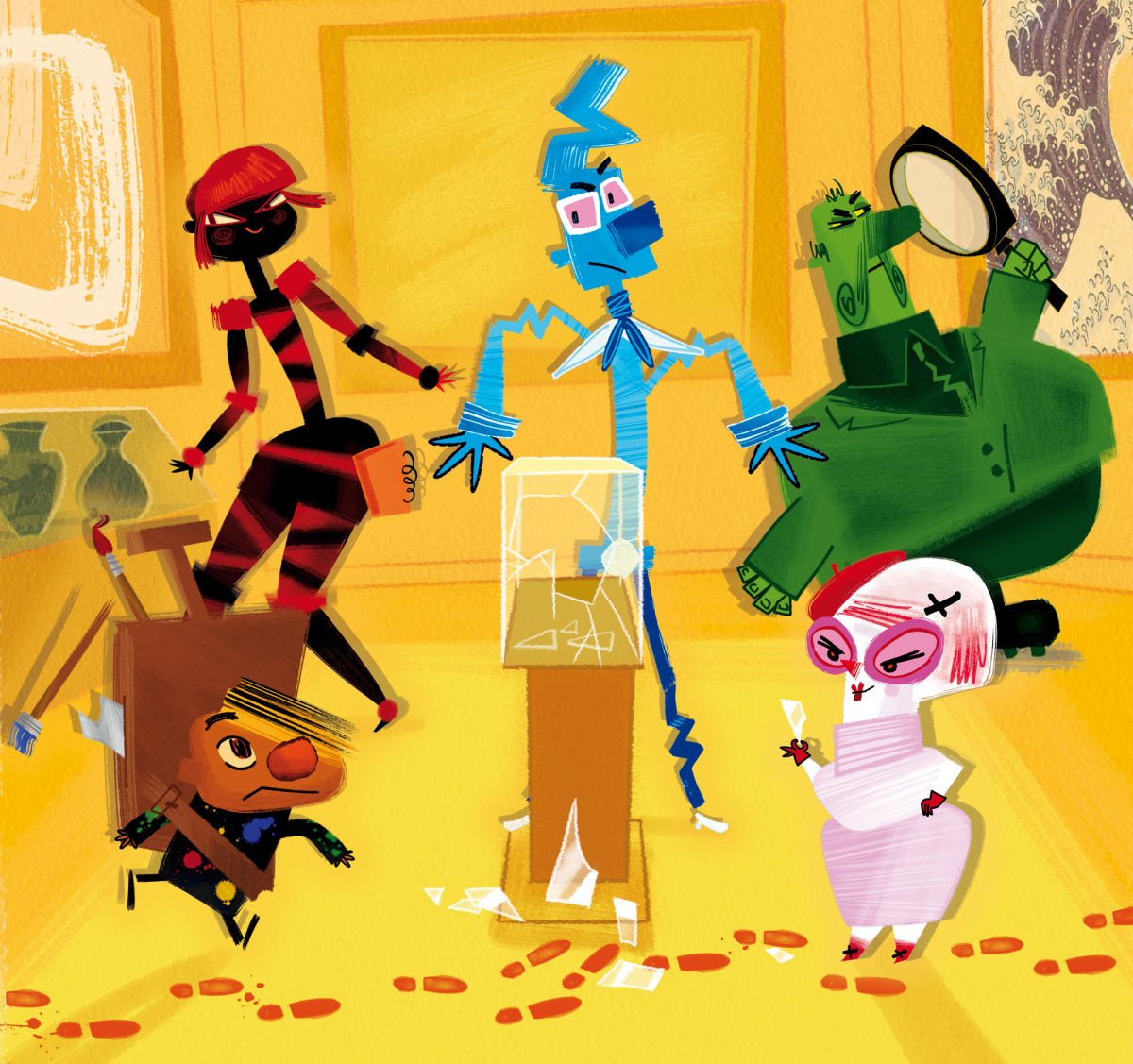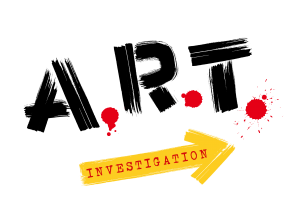 A.R.T. investigation
(52 X 13 min)
created by Alexis Lavillat
written by Philippe Traversat
The series that puts art in its place !
52 investigations as eccentric as can be that encourage kids, teens and the living room sofa
to discover the marvels of the history of the art and civilization.
The leader of A.R.T., Miss Yu, runs her team with a marble fist. They are: Tregor, the ARTnalyste expert, Agent Rix, the primitive art policeman and three hand-picked students: Bird the eccentric who runs full throttle, Popsy the learned dandy and Matt, a funny little Shortlock Holmes.
A.R.T. Investigation: a spot-on team. Performance, jokes, colors !
A  N O R M AA L     production
With the participation of FRANCE TÉLÉVISIONS
Created and drawn by ALEXIS LAVILLAT
Written & developed by PHILIPPE TRAVERSAT
Produced and directed by
ALEXIS LAVILLAT
Writing director
ARNOLD BOISEAU
Voices director
EVELYNE GRANDJEAN
With the voices of
EMMANUEL GARIJO
JÉRÔME PAUWELS
FILY KEITA
VÉRONIQUE AUGEREAU
CÉLINE RONTÉ
ALEXANDRE AUBRY
Music by
LAURENT BAUER
Scripts by
ARNOLD BOISEAU
PHILIPPE TRAVERSAT
CAROL ANN WILLERING
FLORENCE NIZAN
JEAN-MARC LENGLEN
MICHEL COULON
JEAN PECHEUX
EVELYNE GRANDJEAN
PAVLENKO-FOUCART
AGNÈS SLIMOVICI
SIMON LECOCQ
SYLVIE RIVÈRE
CHRISTOPHE LE BORGNE
CLÉMENT PELLETIER
Storyboards
JONATHAN MESNER
ERIC LEFAURE
FABRICE HAGMANN
BENJAMIN LAGARD
CHRISTOF LEFEBURE
JEAN-MARIE JOURDANE
KEVIN AUDI-GRIVETTA
Assistant director
PIERRE VOLTO
Section "Salut les artistes " supervised by animation schools :
La Poudrière
ANNICK TENINGE,
LAURENT POUVARET
l'EMCA
LOÏC LE GUEN,
CHRISTIAN ARNAU,
ANNE LUCAS
l'Atelier
MARIE ET THOMAS DEBITUS
Studio managers and animation production
ANTONIA MARTINEAU
DOMNIQUE GIACOMONI
HÉLÈNE MÉNANTEAU
KOUKIE ALVAREZ
JONATHAN NARDI
Production & legal coordinators
ANTONIO VELASCO
SYLVIE LEPERRE
AUDREY MONTIS
CLAIRE JARRETON
CAROLINE RAINETTE
Sound
STANDAARD
Manager
BABETTE VIMENET
Sound ingeniors
GUILLAUME LAFEUILLADE
DENIS CADIOU
MATHIEU CABOOTER
Assistant
PAULINE BROQUET
Laboratory
RAMSÈS 2
Artistic directors
Character design
JEAN-YVES CASTILLON
GEOFFROY MONEYRON
KANTIN FOVET
Backgrounds
DAVID COQUARD-DASSAULT
DOMINIQUE GIACOMONI
TCHACK
Lay-our supervisor
ROBIN RAFFALLI
Animation supervisor
AURORE SANGUINETTI
Compositing supervisor
VIRGINIE PATERNOSTRE
FX
NICOLAS GUILLOTEAU
FRÉDÉRIC MACÉ
Colour supervisors
JULIE ROUVIÈRE
MÉLANIE BRICHARD
Drawing cards
LISA YOKOBORI-PIAT
WILLY BESSEAU
Lipsynch
GUILLAUME ROUCAIROL
Set-Up
JEAN-MARIE JOURDANE
Clean Props & backgrounds
LONG NGO
DOMINIQUE GIACOMONI
JULIEN BELIN
CHARLOTTE HUTCHINSON
LOU BONELLI
VINCENT CARRETEY
MARTIN DE CLERFAYT
Colour backgrounds &  props :
VÉRONIQUE DUBOURG
MANON TEXTORIS
THIERRY ROUQUET
Mangas
VINCENT ESTIENNE
Layout team
BENJAMIN MIALET
BENJAMIN MOULIN
RÉMY NARDOUX
FRÉDÉRIK ANZOLIN
ÉRIC BRÉCHAT
ARNAUD MILLOT
CIELLE GRAHAM
EMMANUEL FOUR
OLIVIER BOILLAT
VANESSA BOUSSERT
Animation team
LOUISE MENDOCHE
CLÉMENT PELLETIER
SYLVAIN BOUSSIRON
JORDAN BLONDEAU
ERIK SIMON
ALEXANDRE RATEAU
CÉDRIC GRECH
MAYA BENSMAÏL
PAULINE MÉNIGAULT
PIERRE LEDAIN
PIERRE PATTE
SAMUEL BONNEMORT
WILLY BESSEAU
Compositing team
CYRILLE LE FOLGOC
JONATHAN NARDI
Editing
OLIVIER VERGNEAU
With the participation of France TÉLÉVISIONS , Youth TV program unit
FLORENCE CANTA, CÉLINE LIMORATO, PIERRE SIRACUSA, JULIEN BORDE
With the support of  PROCIREP, Société des Producteurs
With the support of  l'ANGOA
With the support of  PÔLE IMAGE MAGELIS
With the support of  DÉPARTEMENT DE LA CHARENTE, of  RÉGION POITOU-CHARENTE
With the participation of CENTRE NATIONAL DE LA CINÉMATOGRAPHIE ET DE L'IMAGE ANIMÉE
N O R M AA L © MMXII