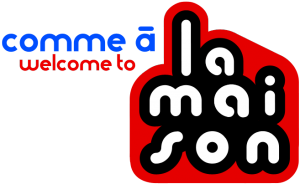 WELCOME TO LA MAISON
(52 X 4 min)
created and directed by Philippe Traversat
produced by Alexis Lavillat
How 'bout we Play House ?
The first reality-animation series entirely based on real life events. Re-discover everything you've tried so hard to forget about FAMILY, except now it's fun.
Welcome to la Maison is just like home, but with a toy family in a doll's house !
Darling Daddy / Inaction-Man
Tough Mama / Barbie-Tuates
Model Son / A Wreck-tor Set
Dangerous Daughter/ LE(t)-GO
Clingy Pet/ Punky Pony
A Dream Cast who thinks INSIDE the box!
With true stories about middle class, middling-to-classy, domestic life, Welcome to la Maison is finally asking the right question : Okay, so you can't choose your family, but… did they choose you?
A  N O R M AA L    – CANAL+ coproduction
Created & written by PHILIPPE TRAVERSAT
Design: GUILLAUME DECAUX
Executive & associate producer : ALEXIS LAVILLAT
Directed by  PHILIPPE TRAVERSAT
Studio managers and animation production
ANTONIA MARTINEAU
OLIVIER NOMEN
MICKAËL CAMUS
Production & legal coordinators
ANTONIO VELASCO
SYLVIE LEPERRE
AUDREY MONTIS
With the voice of :
EMMANUEL GARIJO
Music by LAURENT BAUER
Storyboards
CÉDRIC DIETSCH
LAURENT NICOLAS
NICOLAS LE NEVÉ
Image & FX supervisors
DAMIEN GAILLARDON
CAROLINE MISTRAL
Illustrations :
XAVIER HOURLIER
Editing
NICOLAS LE BLED
DAMIEN GAILLARDON
CAROLINE MISTRAL
Stop motion animation supervisors
JULIA PEGUET
ANTHONY DARLINGTON
Stop motion animation
JULIA PEGUET
MARKUS MAYER
CAROLINE MAURÉ
Animation
ANDRÉ PÉREIRA
SANTIAGO ALVAREZ
Accessories
ALIX LAINÉ
Compositing
SANDRINE BEAUJOUR
ALEXANDRE FOLLAIN
Trainees
EMILIE LE BOURG
GWENDOLINE VAULÉON
Chief cameraman
FABRICE RICHARD
Sound : STANDAARD
Laboratory :
RAMSÈS 2
Characters manufacturing
DAVID THOMASSE
DAVID ROUSSEL
Manufacturing workshop
JPL FILMS
Backgrounds manufacturing
JULIEN VRAY
CHRISTOPHE DEYRIS
Sound FX
FANNY BRICOTEAU
MATHIEU CABOOTER
Foley's
GRÉGORY VINCENT
Mix
BRUCE KEEN
With the participation of CENTRE NATIONAL DE LA CINÉMATOGRAPHIE ET DE L'IMAGE ANIMÉE
and PROCIREP
CANAL+
FRANÇOIS DEPLANCK
SOPHIE BOÉ
N O R M AA L © MMVIII / CANAL+
Sample 01
Sample 02
Sample 03